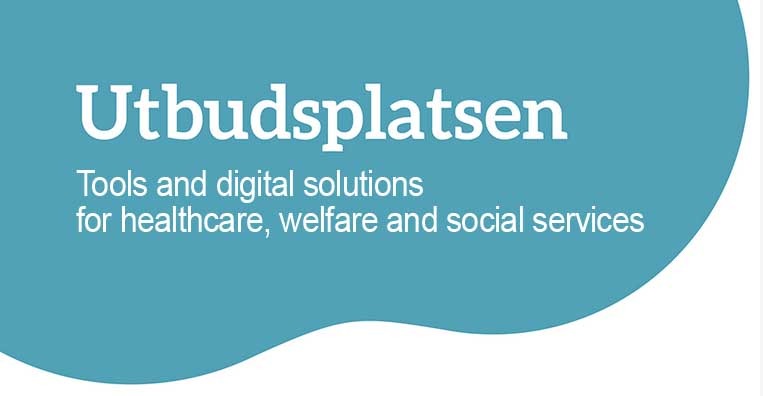 Utbudsplatsen – a support database during the corona pandemic
Because of the ongoing corona crisis, we are launching Utbudsplatsen. This is a unique database that brings together information about digital solutions and medical technological devices and enables municipal healthcare, welfare and social services to quickly search for and learn what is available on the market today.

In the wake of the pandemic, there is a great need to find new ways of communication, working methods and solutions to slow or prevent the spread of infection, to treat and rehabilitate affected patients, and to protect and streamline the work of healthcare professionals. Against this background, Medtech4Health, together with the business associations Swedish Medtech and IT & Telecom Industries have created a database where personnel in healthcare, welfare and social services should be able to quickly get a picture of what is available in the market.
"It feels good to be able to offer a common tool that makes easier an extreme situation. We want Utbudsplatsen to be a quick route to finding existing solutions, but also a means to help health professionals find new ways and methods of working," explain Anna Lefevre Skjöldebrand, CEO of Swedish Medtech, Jonas Sareld, Programme Director for Medtech4Health and Lars Lundberg, nutrition policy expert at IT & Telecom Industries.
Suppliers enter what they can offer
Utbudsplatsen is a portal open to all suppliers offering relevant products or solutions aimed at municipal healthcare, welfare and social services. These can include digital aids, family support, drug management, safety-creating technology and much more.
Through the portal, municipal healthcare, welfare and social services staff can easily search for these products and services. Searching can be done by type of business, area of activity, as needed or by means of a free text search. The portal is a living forum and the idea is that suppliers will be constantly replenishing the products and services included in the database. The companies are responsible for themselves entering and updating the information in the database, and the database is open to the public.
Utbudsplatsen is part of the integrated information and support portal digitalvardochomsorg.se
The site is part of digitalvardochomsorg.se, a website for co-ordination and inspiration about digital tools for municipal healthcare, welfare and social services during the corona pandemic. The website digitalvardochomsorg.se is operated by the Research Institutes of Sweden (RISE) and collects information and content from a number of organisations and authorities.

Follow the news and calls from Medtech4Health – subscribe to our newsletter.