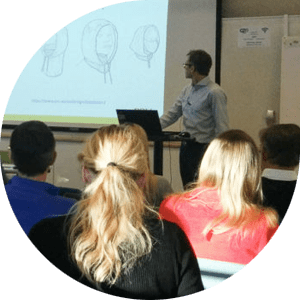 Training in Entrepreneurship
To increase the likelihood of more successful medtech projects, Medtech4Health finances a training course, Innovation and Entrepreneurship in Medical Technology.
Innovation and Entrepreneurship in Medical Technology deals with the complete innovation process, from identifying a problem area to the commercial launch of a medical technical solution. The course is given residentially on two occasions with distance modules in between.
In order to reach the goal of a medtech innovation, great demands are placed on well-functioning co-operation and good communication between all those involved on the course. In addition to lectures and case work, an essential element is the exchange of experiences between participants. The make-up of the student body on each course of particular importance. There is a conscious selection for the widest possible interdisciplinary background and the greatest distribution across the country.
In 2018 the course took place in Umeå and Stockholm. The project leader was Helena Grip CMTF.

SEARCH

CONTACT